Project Case Study: Modernizing a Mid Century Split Level
One of the most dramatic transformations we completed in 2018 was a whole home renovation on a right-sized mid century split level in Southside.
The homeowners had been in the house for 20 years, but it was time for a downsize and a move, and they wanted to sell the property as-is. From our perspective it was a nearly perfect investment - great location, big yard, three bedrooms, two bathrooms, plus tons of underutilized space that we knew we could improve upon. Essentially - great potential and solid bones. All it needed was some vision.
The challenge
While the home had been very well cared for, it was still built 60 years ago, and needed plenty of aesthetic upgrades throughout - especially in the all-important kitchen and bathrooms. It also needed some bigger repairs like a new roof. The backyard was littered with three sheds and an abundance of overgrown landscaping. The bottom floor of the split level was awkwardly divided into a 70's basement bar and a long, dark storage room. Carpet throughout the house hid hardwood floors and the master bath was too small for modern buyers.
The Solution
A lot needed to be done, and at 2,500 square feet, the house was no small project, so we broke it down by area.
Curb appeal
We gave the house a fresh coat of gray paint and a brand new metal roof. These changes really set the exterior of the home apart from similar houses in the neighborhood.
The entry porch was refreshed with a new wood column, new exterior light fixtures and a custom metal railing by local craftsman, Doug McDonald. We also installed a new front door, bringing more light into the interior entry hall.
Main level
Our first interior project was removing all the old carpet and vinyl flooring and installing new wood floors to unify the living spaces. We also decided to remove the coat closet and all the walls enclosing the stairs in the entry hall. These changes made the space feel larger and brighter, and gave us an opportunity to showcase new metal railings on both sides of the stairs, creating an entirely different first impression walking through the front door of the house.
In the living room we refreshed the existing fireplace with a new tile surround and a custom wood mantle created by our own RIC craftsmen.
But the biggest change happened in the kitchen where we removed the dated (and nonstructural) brick arches that separated it from the dining room. We also removed the cabinetry around the windows, painted the existing cabinets (which were in great shape), installed new counters, and added new lighting and a new tile backsplash.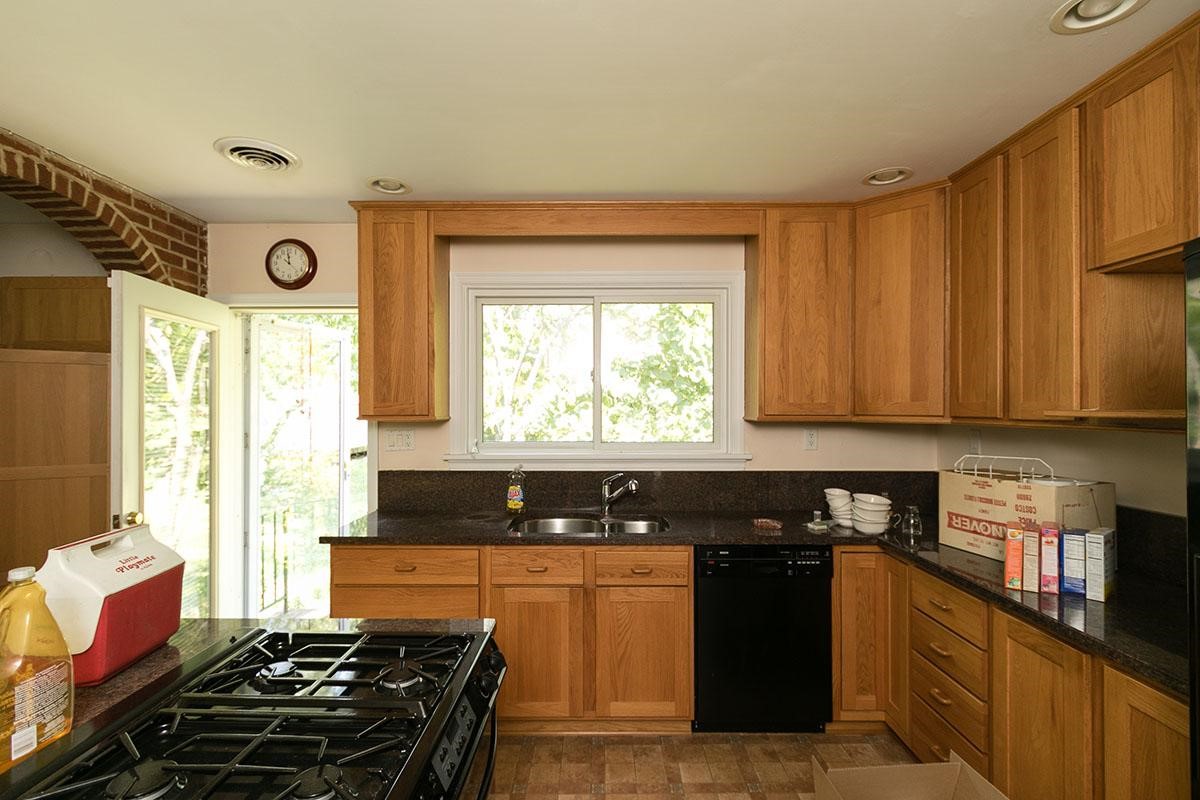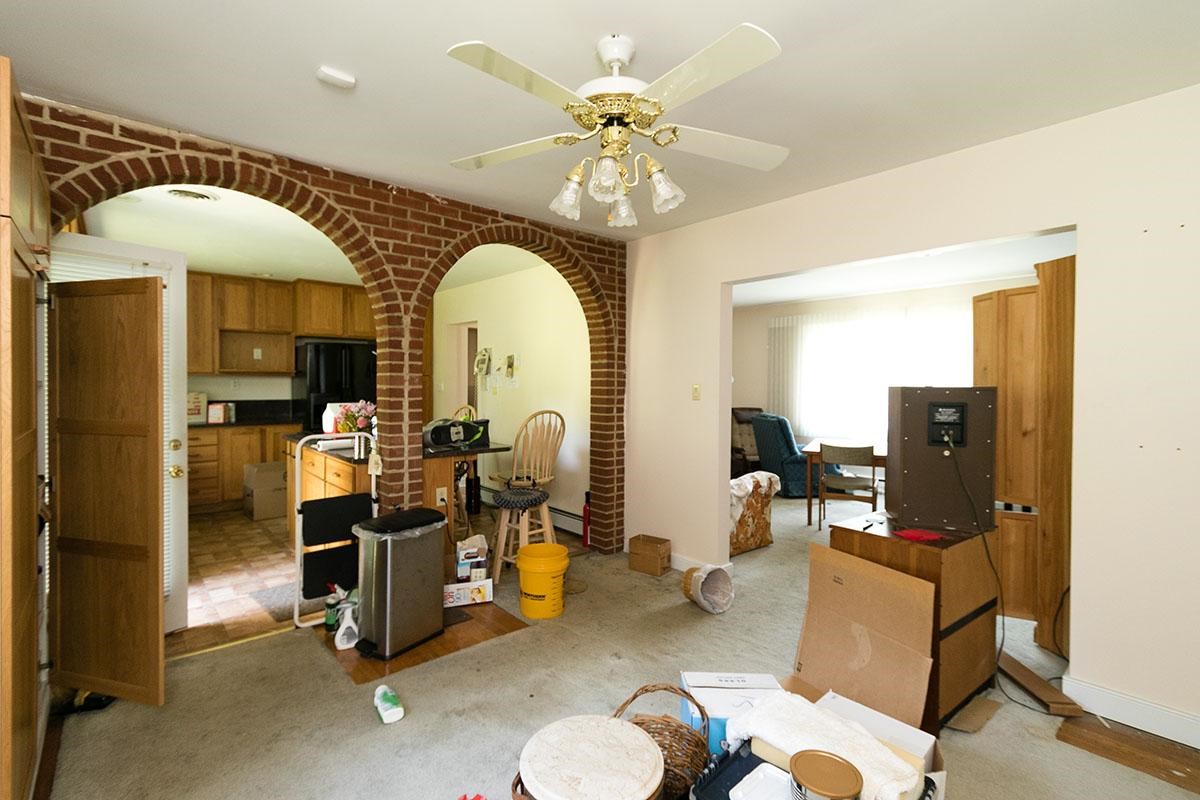 Lower Level
One of the biggest issues downstairs was a long, concrete block load bearing wall that divided the space up in an awkward layout. The only way to remove this wall was to replace it with a new steel beam, which we concealed in the ceiling. This allowed us to transform two smaller, oddly proportioned rooms into one large living space with a lot of natural light. We replaced carpet with new hardwood floors, painted the dark wood paneling, and added recessed lighting. This generous, versatile space can be used in so many different ways now: family room, game room, yoga studio - you name it!
Reconfiguring this space allowed us to create a fourth bedroom on the lower level with an adjoining half bath. This added value to the home, and works as a great guest room or home office - separate from the other bedrooms and main living space.
We also enclosed the lower level utility room, built in a finished space for a washer and dryer and installed two new glass doors that provided more natural light as well as convenient backyard access.
Second Floor
After removing all the wall-to-wall carpeting, the original hardwood flooring was refinished on the second floor. The master suite was enlarged by turning a closet into a shower. Where there had previously only been room for a small, pedestal sink we installed a new 4' marble-topped vanity which we created from a midcentury dresser - a nod to the home's era. This bathroom also received beautiful new cement floor tile and new light fixtures.
We kept the hall bathroom updates simple, modern and fun with new lighting, a large new wall-hung vanity, and a crisp palette of black and white wall and floor tiles.
The Sell
Unsurprisingly, this home sold before it went on the market. Between the quiet, established neighborhood, generous yard and trees, the easy walk to the river - the house had a lot going for it before you even got inside.
We also think the size is a good sweet spot of not-too-big/not-too-small that appealed to many different types of buyers. The improvements we made lend a lot of versatility to the living spaces and the materials we chose provided a neutral, modern palette that was also appropriate to the home's mid century origins. All of this came together to make this Southside gem one of our favorite projects.